Okay world, it's that time of year again and I'm not as prepared as I was last year. My daughter will be turning 2 VERY soon and I started planning late this year. Why you ask? I'm currently 5 months pregnant and the energy is just... not... there. Having an almost 2 year and being 5 months pregnant has slowed me down tremendously on any extra curricular activities I may want to do. One of those being a lot of the hand made projects I love doing so much. Instead of designing
from scratch my daughter's birthday party invites
, I bought
birthday cards from Hobby Lobby
and printed on them. I think they look absolutely fabulous. On top of that they're only $4.99 for 10 (includes envelopes) and I used their 40% coupon to purchase them.
Here's the template...
What mine look like...
I was able to customize them exactly how I wanted so I am pleased with the outcome. There will be a lot of repeats from last year's party. I plan to reuse the poofs/poms-poms that are still hanging in her room along with the banner that I made last year. It's also hanging in her room. I also plan on using the letter that I made for her room. It will be a decorative piece on the table.
I just plan to arrange them all a bit differently. The
popcorn cups
I made last year as party favors are definitely a no-go this year simply because they take a lot of time and effort to create. With the party literally being 3 weeks away, I've come up with an alternate plan... treat bags which I'm sure is a no brainer for most. I bought two options ...
polka dot treat bags
zipper bags with toppers which I like most...
Unfortunately, Hobby Lobby only had one left hanging in the store so I'll have to see if they can get a couple more in. Although, this is something that I could make myself with card stock paper and a box of ziplock bags. Soooo, both items may be going back to the store because this is an idea I may have to do. My brain is tinkering away at the possibilities.
The cupcake in a jar idea that I did last year is on again for this year's party. It was a successful item that I (along with everyone else) enjoyed. Makes for easy clean up and the jars are reusable.
I just need to figure out how I want to decorate the front. My leading option right now it to use one of the FREE label options at
http://www.jamlabelizer.com/
. 
They have some very nice options that are free to use. Here's a couple of options I'm thinking about using...

The round ones seem easier to punch out with a paper punch instead of having to cut around an intricate shape. I'm thinking of using card stock paper and tie them onto the jar either as tags or actual labels on the jar fronts. I'm still thinking on how I want to do this. Here's an idea I found on etsy that I may be able to do...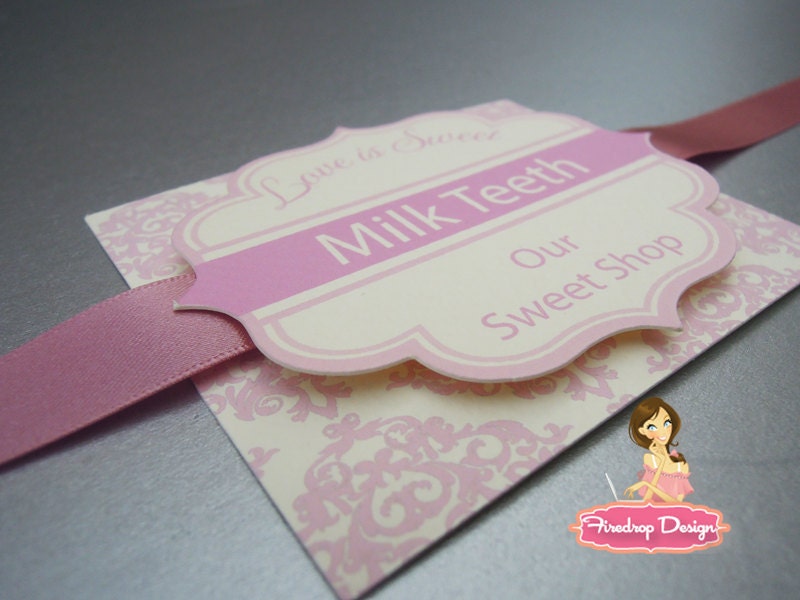 Using cardstock paper, ribbon, and my paper punched circular label on top. I kinda like this idea. More work, but the outcome sounds nice. We'll see when it's time to start getting it together. Other plans include decor related stuff... a photo of my soon to be 2 year old in a nice frame. I got good use out of my beverage dispenser last year so it will get used again.
For now, I will be working on getting my decisions in stone so I can start working on this stuff! :) I'll be sure to post pictures of the party. I'm excited for my big girl! She's growing too fast for me. ;) Oh my, I still have to figure out what she's going to wear for her party!!! Jeez, I have so much to do... so little time. Pray for me. ;)